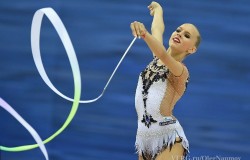 Yana Kudryavtseva won the stage of the Rhythmic Gymnastics World Cup in Kazan
The last stage of the Rhythmic Gymnastics World Cup this year has come to an end in Kazan. Its winner was the absolute world and European champion Russian Yana Kudryavtseva. She won the all-around and three of the four finals. Although after the first day Margarita Mamun was in the lead, however, an error in the exercise with clubs prevented her from fighting for the highest step of the podium in the all-around. She is the second. The third place was taken by the always stable Belarusian Melitina Stanyuta. The fourth in the all-around was Ekaterina Galkina (Belarus), who has been rapidly progressing lately.
In the final part of the competition, Kudryavtseva once again proved who is now number 1 in the world by winning three finals. The hoop exercise brought gold to Margarita Mamun. Other prizes, in addition to the two above-mentioned gymnasts, were won in various forms: Melitina Stanyuta, Ekaterina Galkina and Son Yong Ji from Korea.
In the group competition the all-around was won by the Russian team. Finals for the Russians and Belarusians. We are looking forward to the World Cup.