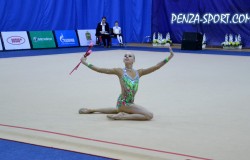 Yana Kudryavtseva winner of the all-around at the Russian Rhythmic Gymnastics Championships
Muscovite Yana Kudryavtseva won the all-around at the Russian Rhythmic Gymnastics Championships in Penza.
Based on the results of the exercises with a hoop, ball, clubs and ribbon, the athlete scored 77.483 points in total.
Silver medal was awarded to Margarita Mamun from St. Petersburg, who earned 77,250 points. Alexandra Soldatova from the Moscow region rose to the third step of the podium – 75.383 points.
According to the champion, despite a successful performance, there is still work to do.
"Everything went well. I did what was planned, but there is no limit to perfection. Therefore, we are still finalizing it. There is no program that would be perfect or very well executed at the moment. This is not my first time in Penza, so here I feel at home, everything is familiar – a large comfortable hall, comfortable living. Everything suits me perfectly, "said Yana Kudryavtseva.
The gymnast noted that the championship is held in a bitter struggle.
"In general, the competition in the Russian team, of course, between athletes is more serious than in foreign countries. We have a very large bench. Everyone is strong, and I don't feel like a leader of the national team. Zhenya Kanaeva also taught us that you must, first of all, take care of yourself, that is, if you make some mistake, you yourself are to blame. If you do everything cleanly, then the judges have the final say, "she added.
According to the results of the all-around competition, the representative of the Penza region Maria Titova stopped one step away from the podium, taking fourth place.
"I have completed my task by 80%. Everything does not always work out. Satisfied, but not quite. The main thing is to do the job cleanly. I have mostly stupid mistakes. Probably due to carelessness. We analyze all this with a coach, we work with a psychologist. In training, everything goes smoothly, and at competitions sometimes something is not asked, maybe because of excitement, "said the athlete.
In the team championship at the Russian championship, the Moscow team won (433.717), the second place was taken by the gymnasts of the Volga Federal District (418.350), the third – the representatives of the Siberian Federal District (415.734).
On Saturday, April 26, the participants will compete for sets of awards in certain types of all-around.