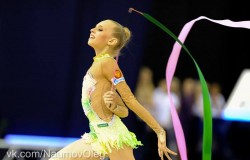 Russian Yana Kudryavtseva celebrated victory in the all-around at the Rhythmic Gymnastics World Cup in Minsk
Irina Viner continues to trust, and at the same time to test young people at important starts, thereby creating competition in the team. So, at the next stage of the World Cup, which was held in Minsk, Russia was represented by very young Daria Svatkovskaya and Yana Kudryavtseva and brought 8 medals for two to the team's piggy bank. The result is more than good, especially since Kudryavtseva won the all-around and became the first in the final exercise with the ball (Yana also won two silver medals in the finals with clubs and a ribbon). Svatkovskaya finished second in the all-around, won the final with the hoop and came second and third in the finals with the ball and ribbon, respectively. It seems that given the age and experience of girls performing in adult competitions, Irina Aleksandrovna should be satisfied with the result.
And what about the rest? The Ukrainian team did not come to these competitions at all, citing organizational problems. It was expected that the home stage of the World Cup could be won by the leader of the international rating in the all-around Melitina Stanyuta. However, the Belarusian grace had to be content with only the third place, although the results of the first three are so dense that any of this trio could be the winner. Fortune smiled at Kudryavtseva. Melita still managed to partially recoup in the finals, becoming the winner in clubs and ribbon. Korean Song Yong Jae took two silver medals in the hoop and clubs finals (she shared the second place with Kudryavtseva in the clubs exercise). Neta Rivkin of Israel finished third in the hoop final. and the Bulgarian Sylvia Miteva won bronze in the exercise with the ball.