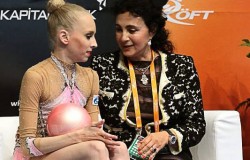 Irina Viner: "Yana Kudryavtseva was the opening of this European Championship"
The head coach of the Russian national rhythmic gymnastics team assessed the performances of her gymnasts at the European Championships in Vienna
The European Rhythmic Gymnastics Championship was held in Vienna (Austria). The adult Russian team confidently won the overall team event, winning five gold and three silver medals in five disciplines. The Russians won the team competition, Yana Kudryavtseva – in exercises with a ball and clubs, Daria Svatkovskaya – with a hoop, Margarita Mamun – with a ribbon. In addition, Mamun has three silver coins (a hoop, a ball and clubs). Juniors in group exercises also excelled in the team ranking, having won victories in the combined event and in the final with five hoops. The results of the competition were summed up by the President of the All-Russian Rhythmic Gymnastics Federation, the head coach of the Russian national rhythmic gymnastics team, Irina Viner, to Vladimir Ivanov, a special correspondent of the All Sport Sports Information Agency.
– One of the leaders of our country once said that only the final result is important, – Irina Viner began. – If you look at our final result, we will see seven gold medals and three silver out of four possible. This is an absolute, unconditional victory that defies any denial. Although as a coach, I can say: despite the victories, there were some mistakes and mistakes. There is still a lot of work ahead, because stopping is like death. By the Universiade in Kazan and the World Championships, we still have to train hard and hard to keep moving forward.
– Russia not only collected all the gold, but also the gap from the closest pursuers was half a point. Has our team ever won with such a clear advantage?
– I don't think it happened. For example, at the European Championship before last, which was held in Minsk (Belarus), our team, consisting of Evgenia Kanaeva, Daria Dmitrieva and Daria Kondakova, won three gold, three silver and one bronze. Zhenya Kanaeva and Belarusian Lyubov Charkashina each had two personal victories. This was a good lesson for us. After that European Championship, Zhenya admitted that she had to work differently. Words did not disagree with deeds, and a year later, at the Games in London, Kanaeva performed brilliantly, becoming a two-time Olympic champion. At the current European Championship, our team included very young girls who are 16-17 years old, but they looked worthy against the background of more experienced rivals from Belarus and Ukraine.
– Did any of our girls surprise you?
– Nobody surprised me, because I know all their programs very well and have worked with them for more than one day. Although the opening of these competitions, of course, was Yana Kudryavtseva . Last year she was the European champion among juniors, and this year she has already won twice among adults. Yana made a splash with her lightness and originality. She flew over the site like a butterfly! Kudryavtseva became the opening of these competitions, and even the judges, who were critical in their assessments, agreed that we were facing an angel who deserves high marks.
– Most of the medals from the European Championship were taken by Margarita Mamun. Does that say she's the most promising all-round?
– It's just that Mamun, as the first number of the team, performed in four forms at once. We must pay tribute to her, for eight exits she did not make a single gross mistake, did not lose a single item! Kudryavtseva did three types – and won two. Daria Svatkovskaya did only one appearance, but she won her discipline. And Mamun proved that for today she is the first number of the team.
– Last year, the fight for the second Olympic ticket to the 2012 Games was between Alexandra Merkulova and Daria Dmitrieva. Where are these girls now?
– Merkulova is preparing for the Universiade. She had an injury, after which Alexandra, unfortunately, added weight and could not get into the desired shape. And we also have Maria Titova, who brilliantly performed at the World Cup stages. She could also participate in the European Championship, but I held her back for now. Because if this girl will perform, she should be the first at once. So, we have someone to choose from for the Universiade in Kazan and the World Games in Cali (Colombia).