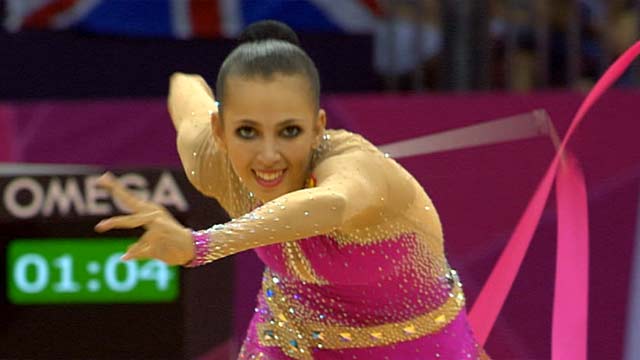 Dmitrieva Daria Andreevna
Daria Andreevna Dmitrieva  (June 22, 1993, Irkutsk, Russia) – Russian gymnast. Silver medalist at the 2012 Olympic Games.
Champion, silver and bronze medalist of the 2009 Russian Championship; European champion among juniors; winner of international tournaments "Children of Asia", "Deriugina Cup"; world champion 2009 in the team; 2-time champion and silver medalist at the 2010 World Championship, silver medalist at the XXX Olympic Games in London.
Sports career
She began to engage in rhythmic gymnastics at the age of 8 in the "Young Dynamo" under the guidance of the Honored Coach of the USSR Olga Buyanova.
In 2008, in company with the Olympic champion of Beijing Evgenia Kanaeva and Alexandra Solovieva, Dasha won the World Cup among club teams. The Russian team "Gazprom" turned out to be head and shoulders above the Ukrainian "Deriugina School" which took second place and the bronze medalist – Azerbaijan's "Neftchi". The athlete did not leave any chances to her peers in the individual championship. Dmitrieva left out of work Melitina Stanyuta from Belarus and Aisha Mustafayeva from Azerbaijan.
At the 2009 Russian Rhythmic Gymnastics Championships, which was held in Penza, she won 3 medals. For the debutante of the adult tournament, Dmitrieva, these competitions became very successful: in the exercise with a ribbon, Daria took a silver medal, with a ball – a bronze one, and after performing with a hoop she climbed to the highest step of the podium.
At the Rhythmic Gymnastics World Championships held in the Japanese city of Miya, Daria Dmitrieva, in the company of her titled compatriots – the Beijing Olympic champion Evgenia Kanaeva, Daria Kondakova and Olga Kapranova – became the world champion in the team event [3] .
Already during the London Olympics, a few days before the start of the rhythmic gymnastics competition, it was announced that the Russian national team would be replaced and, together with the recognized favorite of the competition, Evgenia Kanaeva, instead of Alexandra Merkulova, Daria Dmitrieva went to London. The decision was made in the course of control exercises; according to the head coach of the national team Irina Viner, the decision was largely due to Merkulova's minor injury.
Daria started the post-Olympic season extremely unsuccessfully – at the end of February 2013, in one of Dmitrieva's German clinics, an operation was performed on her right ankle. Fortunately, the operation was successful, but recovery is slow. Neither Daria nor her coach Olga Vladimirovna Buyanova made any official statements about the end of her career.
In September 2013 she completed her sports career.
State and departmental awards
• Medal of the Order of Merit to the Fatherland, 1st degree (August 13, 2012) – for a great contribution to the development of physical culture and sports, high sports achievements at the Games of the XXX Olympiad 2012 in London (Great Britain) .
• Honored Master of Sports of Russia (April 4, 2011)
• International Master of Sports of Russia (December 22, 2008).