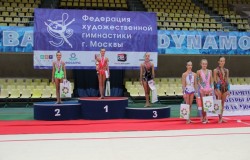 Averina sisters won the Moscow Rhythmic Gymnastics Cup
On November 22, the Moscow Rhythmic Gymnastics Cup took place at the Dynamo Sports Palace.
The tournament, which takes place annually at the Sports Palace on the street. Lavochkin, traditionally gathered on the carpet the best of the Moscow "artists" who competed in certain types of exercises. In the bitter struggle of the most flexible and graceful athletes of the capital, the charming twins Arina and Dina Averina became the best. Arina won the podium, Dina became the second, and Elena Banina won the bronze .
The sisters train with Vera Shatalina , the senior coach of the country's youth national team, according to an individual program. Vera Nikolaevna is an honored coach of Russia. Coach of the Olympic champion, incomparable Alina Kabaeva and world champion Olga Kapranova. Irina Viner-Usmanova herself oversees the classes.
The sisters have won many victories at regional and all-Russian competitions. For example, at the VI Summer Spartakiad of Russian Students, which took place in Penza in July this year, Arina Averina took second place in the all-around, won the exercise with a hoop, and won silver after performing with a ribbon and a ball. Dina took gold in the performance with clubs and two bronze medals in the all-around and with ribbons.
"Dina and Arina Averina are among those young gymnasts who I see a great future for," said Irina Viner-Usmanova. – The next year the girls will perform according to the adult program. Then I will already be watching them carefully.
According to the results of the Cup, the six best athletes were awarded with memorable gifts from the President of the Rhythmic Gymnastics Federation of the city of Moscow Andrei Guryev and the PhosAgro holding.