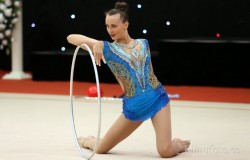 2014 Aeon Cup Unofficial Club World Championship (Results)
On October 17-19, the unofficial world championship in rhythmic gymnastics among clubs Aeon Cup-2014 was held in Japan. In the team competition, the first place was taken by the Gazprom team (Russia), the second – by Dynamo (Belarus), the third – by the School of Deriugins.
In the individual championship among seniors, the best was Russian Margarita Mamun (Gazprom), second – her compatriot Yana Kudryavtseva (Gazprom), third – Melitina Stanyuta (Dynamo, Belarus). The distribution of forces in the personal junior standings is as follows: 1. Veronika Polyakova (Gazprom); 2. Maria Trubach (Dynamo, Belarus); 3. Zhala Pirieva (Osaq Sport Club, Azerbaijan).
Complete results